The updated Renault Sandero was launched in Johannesburg recently, with a few additions to the range which will give it a more balanced look. In the SA market since 2009, the Sandero was initially a value proposition in the entry level segment. Manufactured in partnership with Nissan at their Rosslyn plant, it sold a whopping 28 803 units in the first five years, to be replaced by the Sandero 2.
Sourced from Romania, the new line-up was fresh, restyled, reflecting improved quality and finishes, and powered by a Turbo engine (unique in its class), the Sandero boasted a host of superb safety features as well as smart technologies as standard across the range.
The Sandero Stepway made its appearance in 2011, and was a trailblazer in the cross-over market. This year in 2017 Renault is hoping the 50 000 mark in sales, will be reached for the Sandero range.
So what's new? The model line-up is made up of the flagship Stepway Dynamique, with the more value for money Stepway Expression following it , and finally the Sandero Expression. This in line with the market fascination of anything SUV or Cross-Over oriented They all have the same F1 inspired Renault turbo engine which puts out 66kw.

So how does it look? The first give away is the new front end, which highlights & includes Renault's new lighting signature-shape Daytime running lights, as well as the C-shape rear lights. It has new bumpers in the front & rear, which give a more planted stance. With the Stepway making its Cross-over styling known with a new roof spoiler, roof bars, front & rear skid plates and fog lights. It has the higher ground clearance that all people in SA seem to crave as well.
15'' wheels for the entry level Sandero Expression, and 16'' for the upper two models.
Into the cabin, and the Sandero has new centre console, vents & power window switcheson the door panels, and anyone who still drives a car with wind up windows will tell you, they are worth it. It has a good amount of space, with good headroom and legroom, and a 292 L boot, which can be improved on when folding down the seats. Leather seats are an option in the top model Dynamique.
How does it go? With its 900cc turbo engine that puts out 66kw, you would think it was wanting in the thin air of the Highveld. Whilst it certainly won't break any speed records, it is surprisingly nimble & responsive. With its 5-speed manual transmission you can keep it nicely in the correct rev range to get you where you want to go. Fuel consumption is exceptional, and I drove the car for a week and got 5.7L/100km, which is close to the claimed figures of Sandero Expression at just 5.2 litres/100km, and 5.4 litres/100km for the New Stepway Dynamique and Expression.
The Sandero handles well and gear changes are easy & smooth. It keeps up its revs and I found it a pleasure to drive.
It comes with a comprehensive list of standard features like- side airbags, front and rear power windows, electric side mirrors, leather steering wheel and gear knob and rear park assist. Cruise control and navigation are also standard (unique in this vehicle segment) while leather seats are an option.
The New Stepway Dynamique comes standard with Renault MediaNav. A comprehensive, integrated on-board multimedia system with 7" touchscreen, it's an intuitive system offering quick access to all settings.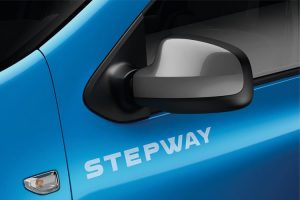 Is it safe to drive? The quick answer is yes, as it has electronic brake assist as well as ABS. It also has electronic stability control, which helps drivers in the case of slippery roads etc to keep control and keep traction on the road surface. It has a three point safety belt in the front seat and ISOFIX fasteners for baby seats.
The Sandero range is now well balanced and should offer buyers a car to suit their pockets across the range. Coming with Renault's 5-year / 150 000 km warranty together with a standard 2-year / 30 000 km service plan, it offers peace of mind motoring. Pricing is good and it offers the same value proposition as in the past.

New Renault Sandero Expression R159 900 (incl. VAT)
66kW Turbo
New Renault Stepway Expression R174 900 (incl. VAT)
66kW Turbo
New Renault Stepway Dynamique R189 900 (incl. VAT)
66kw Turbo