Had the pleasure of driving the updated Golf 7 GTI near PE, which launched with a new engine line up. This is the original vrrrr pahhhh car and has a cult like following in SA. Ask any petrol head and they have an opinion on the Golf GTI. So here is my take on the improved model.
Global sales for this model have topped 33 million, and sales in SA nearly 350 750 units, so this is certainly a popular car. Golf has now got its big boy pants on by bringing ''big car''technology to the hatchback. So essentially to match all that muscle and performance, it now has a touch of class as well.
It comes standard with new LED rear lights, and new head lights which are both LED & halogen, and the rear lights have a white LED stripe that turns orange when indicating that occilate side to side. The new wheels give it the racing cred that it has always had as well. New grilles for the non-performance variants are louvre, and honeycomb grille for the GTI. Twin aluminium tail pipes seal the deal.

Into the Cabin.
The cabin is full of new innovation, for the first time in the compact class the new Discover Pro radio-navigation system can be operated via gesture control. Sporting a 9.2-inch touch screen, the optional system complements the Active Info Display. As before, the new car sits on the now familiar MQB, or Modularer Querbaukasten (Modular Transverse Matrix) platform, which means it benefits from the latest available technology and shares elements of its underpinnings with other successful new models such as the award winning Passat and latest Tiguan.

This gives you five different options to view important info that you might need from the car.
The Golf really does have a plethora of assistance systems in the compact class, employing technologies that will significantly improve safety. These include the Blind Spot Monitor with Rear Traffic Alert as well as Adaptive Cruise Control with Front Assist and Atonomous Emergency Braking System. Optionally available across the range, and ordered in conjunction with the swivelling towbar, Trailer Assist including Park Assist neatly demonstrates the new Golf's practical yet technically advanced nature.
The Golf has the same GTI livery and comfort as before, and even when engaging the paddles for top speed, you feel safe.
Engines.
Apart from the new engines for the non-performance models, the GTI gets a bit more power from 162kw to 169kw & 350 Nm from the 2.0 TSI. The 0 to 100km/h classic sprint is achieved in 6.4 seconds and the top speed is limited to 248km/h. With DSG transmission, GTI has claimed combined fuel consumption of 6.4 l/100km. It feels more powerful & responsive, and of course with the paddles you can keep the revs to an optimum level. The Golf handles like a dream, and even on very uneven surfaces in the Karoo, at high speeds it is steady as a rock.
Interestingly, the VW brains trust has seen fit to launch a diesel GTD later in July, which will put out the same 350Nm as the petrol version, and 130kw. Not sure if all the GTI nation will agree with that one. All Golfs at launch also feature BlueMotion Technologies such as a stop-start system and a mode for storing braking energy (regenerative braking).

Phone Systems.
These days compatibility to either I Phone or Andriod systems is imperative & two phone interfaces are available for the new Golf. Their technical features include a digital speech processor. Together with a high-quality microphone integrated in the headlining and an interface to the outside antenna, the system guarantees very good speech quality. The standard interface is available with the Connectivity Package (including USB port) and from the Composition Media infotainment system.
Standard features on the GTI are as follows:
GTI
The standard features on GTI include:
• Sport suspension
• Exhaust chrome twin tailpipes (right and left)
• Ambient lighting (light strips in red)
• Progressive steering
• 18-inch 'Milton Keynes' alloy wheels
• Automatic air-conditioner 'Climatronic'
• Heated front seats
• Auto high-beam
• LED headlights
• Dynamic cornering lights
• 8-inch Composition Media Radio System with Touchscreen, USB, Bluetooth Connectivity and 8 speakers
• App Connect
• Voice Control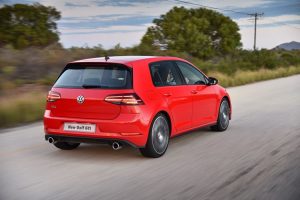 And optional features are available as well:
The new Golf model range can be customised with a raft of convenience and comfort optional features. The optional features that are on offer include swivelling towbar, panoramic sunroof, 8.0-inch Composition Media Radio/CD system, 9.2-inch Discover Pro Navigation System, Active Info Display, Rear Assist with rear view camera, Blind Spot Monitor with Rear Traffic Alert, Adaptive Cruise Control with Front Assist and Autonomous Emergency Braking System, Park Distance Control (front and rear), Park Assist, KESSY Keyless Entry and Start, Adaptive Chassis Control including driver selection (only available on GTI).

The Comfortline derivatives will be offered with an optional stylish R-Line exterior package which includes R-Line front bumper with C-signature air curtains in gloss back and air intake grille in unique honeycomb pattern. Other features of the R-Line package are 17-inch Madrid alloy wheels, Rear bumper with diffuser and trapezoidal chrome trims and spoiler.
Pricing.
The Golf GTI is becoming more expensive, in line with the increased tech being put into the car.
2.0 TSI 169kW GTI DSG R545 800
The new Golf model range comes standard with a 5 year/90 000km Service Plan, 3 year/120 000km warranty and a 12 year anti-corrosion warranty. Service Interval is 15 000km.
The GTI with its superb DSG gearbox and performance engine is still leading the pack, it has now got a touch of class, and is laden with all the latest tech and driving assistance systems you would need. I personally really enjoyed my test drive. Would I buy it? If I was twenty years younger, you betcha, but now I would probably settle for an Audi A4 or A5.